Rosemary and Lime Monkfish

recipe

Preparation Time:

20 minutes

| Cooking Time:

15 minutes
Cooking monkfish in little foil parcels will keep it wonderfully moist and tender - and it will also keep most of the fishy smell out of the kitchen. Serve with warm rolls to mop up all the juices.
Ingredients:
500g monkfish tail, skinned and boned, cut into 4 thick slices
2 fat garlic cloves, thinly sliced
2 rosemary stalks, leaves removed
1 large lime
1 tbsp. oil
25g butter
Directions:
Cut four pieces of foil big enough to enclose the fish slices. Heat the oven to 180C.

Make slashes in the monkfish. Stuff the slashes with the garlic slices and rosemary leaves. Place one piece of monkfish onto each foil square.

Cut the lime in half. Squeeze the lime juice from one of the halves over the fish. Slice the other lime half into 4 thin slices. Lay a lime slice onto each monkfish piece, then dot the fish with butter.

Pull the foil up at the corners to enclose the fish. Put onto a baking tray and cook for 10-15 minutes until the fish is flaking gently.
Author: Laura Young.
Back to the Monkfish Recipes home page.
Add a Review or Comment:
Conversions
500g
about 18 oz

(17.6365 oz based on 0.035273 ounces in a gram)

25g
about 1 oz

(0.881825 oz based on 0.035273 ounces in a gram)

180°C
350°F / Gas Mark 4
Data: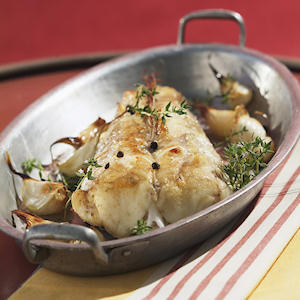 Similar Recipes:
Garlic & Lemon Monkfish


Sometimes, fresh fish only needs few ingredients to make it taste outstanding. This dish combines meaty monkfish, garlic, lemon...

Asian Citrus Monkfish


Fish and lemon are a match made in heaven - this delicious dish is simple to prepare with a quick, tangy marinade that can be p...

Easy Dijon Monkfish


This simple recipe is an excellent way of upping your omega-3 intake - monkfish is brushed with Dijon mustard, then topped with...