Garlic & Lemon Monkfish

recipe

Preparation Time:

20 minutes

| Cooking Time:

10 minutes
Sometimes, fresh fish only needs few ingredients to make it taste outstanding. This dish combines meaty monkfish, garlic, lemon and tarragon to create a simple meal that still has bags of flavour. Serve with lemon wedges on the side.
Ingredients:
4 x 150g boneless, skinless monkfish fillets
Small handful freshly chopped tarragon
1 garlic clove
Zest and juice of 1 large lemon
2 tbsp. olive oil
Directions:
Crush the garlic clove. Combine the oil, lemon juice, lemon zest, garlic clove, tarragon and monkfish in a bowl. Stir to coat the monkfish. Season with salt and pepper. Cover and marinade for ten minutes.

Heat the grill to high. Remove the monkfish from the marinade, lay on a baking sheet and grill for 7-8 minutes until the fish is flaking gently. Serve immediately.
Author: Laura Young.
Back to the Monkfish Recipes home page.
Add a Review or Comment:
Conversions
150g
about 5 oz

(5.29095 oz based on 0.035273 ounces in a gram)
Data: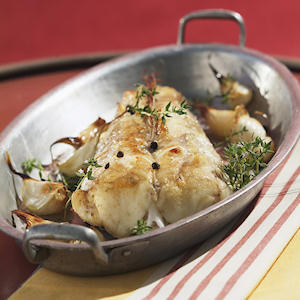 Similar Recipes:
Easy Dijon Monkfish


This simple recipe is an excellent way of upping your omega-3 intake - monkfish is brushed with Dijon mustard, then topped with...

Italian Monkfish Pasta


This Italian inspired dish is an excellent way to use fresh monkfish. Monkfish is cooked with tomatoes, wine, fish stock, ancho...

Asian Citrus Monkfish


Fish and lemon are a match made in heaven - this delicious dish is simple to prepare with a quick, tangy marinade that can be p...