Asian Citrus Monkfish

recipe

Preparation Time:

6 hours

| Cooking Time:

10 minutes
Fish and lemon are a match made in heaven - this delicious dish is simple to prepare with a quick, tangy marinade that can be prepared in advance. Serve with wild rice or wilted
spinach
.
Ingredients:
4 x 150g boneless monkfish medallions
5 tbsp. extra-virgin olive oil
4 lime leaves
1 stalk lemongrass
1 tsp. lemon thyme, finely chopped
Oil to fry
Salt and pepper
Directions:
Finely slice the lime leaves. Bash the lemongrass stalk with the back of your knife and finely chop. Combine the oil, monkfish, lime leaves, lemongrass, lemon thyme and salt and pepper in a bowl and toss to combine all ingredients.

Cover the fish and leave to marinate in the fridge for 6 hours.

When you're ready to cook the fish, remove it from the marinade and season well on either side.

Heat more oil in a frying pan and fry the fish for 4 minutes on either side until golden brown.
Author: Laura Young.
Back to the Monkfish Recipes home page.
Add a Review or Comment:
Conversions
150g
about 5 oz

(5.29095 oz based on 0.035273 ounces in a gram)
Data: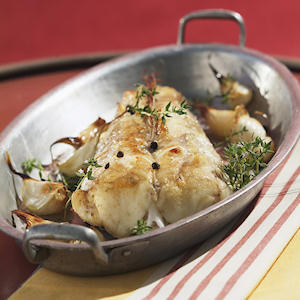 Similar Recipes:
Pesto-Crusted Monkfish


Monkfish is topped with a lemony pesto crust in this recipe and cooked with a slice of lemon, which will turn deliciously gooey...

Rosemary and Lime Monkfish


Cooking monkfish in little foil parcels will keep it wonderfully moist and tender - and it will also keep most of the fishy sme...

Italian Monkfish Pasta


This Italian inspired dish is an excellent way to use fresh monkfish. Monkfish is cooked with tomatoes, wine, fish stock, ancho...