Pesto-Crusted Monkfish

recipe

Preparation Time:

20 minutes

| Cooking Time:

15 minutes
Monkfish is topped with a lemony pesto crust in this recipe and cooked with a slice of lemon, which will turn deliciously gooey and sweet in the oven.
Ingredients:
4 x 170g monkfish fillets, skinned and boned
2 slices wholemeal bread
1 lemon
1 garlic clove
1 tbsp. drained capers
6 basil leaves
2 tbsp. basil pesto
Salt and pepper
Directions:
Zest half of the lemon, then slice half of the lemon into 4 thin slices.

Whiz the bread in a food processor until breadcrumbs form. Add the garlic clove, capers, 2 of the basil leaves, the pesto and salt and pepper, along with the lemon zest and a squeeze of lemon juice from the remaining lemon half.

Place the fish fillets into a roasting tray. Sprinkle with some more of the lemon juice. Top each fish fillet with the pesto crust, a basil leaf and a slice of lemon. Bake for 15 minutes in a 220C oven until golden brown and flaking gently.
Author: Laura Young.
Back to the Monkfish Recipes home page.
Add a Review or Comment:
Conversions
170g
about 6 oz

(5.99641 oz based on 0.035273 ounces in a gram)

220°C
425°F / Gas Mark 7
Data: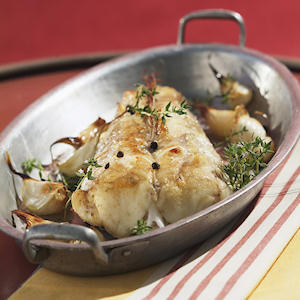 Similar Recipes:
Asian Citrus Monkfish


Fish and lemon are a match made in heaven - this delicious dish is simple to prepare with a quick, tangy marinade that can be p...

Rosemary and Lime Monkfish


Cooking monkfish in little foil parcels will keep it wonderfully moist and tender - and it will also keep most of the fishy sme...

Easy Dijon Monkfish


This simple recipe is an excellent way of upping your omega-3 intake - monkfish is brushed with Dijon mustard, then topped with...