Easy Dijon Monkfish

recipe

Preparation Time:

10 minutes

| Cooking Time:

10 minutes
This simple recipe is an excellent way of upping your omega-3 intake - monkfish is brushed with Dijon mustard, then topped with seasoned breadcrumbs before being baked until soft and tender. Perfect with a
poached egg
and
homemade chips
.
Ingredients:
4 x 150g monkfish fillets, skinned and boned
3 tbsp. Dijon mustard
4 tbsp. Italian-style dry breadcrumbs
Salt and pepper
50g melted butter
Directions:
Season the breadcrumbs. Lay the fish on a lined baked tray.

Brush each fillet with the mustard, season with salt and pepper, then sprinkle with the breadcrumbs.

Drizzle the butter over the fish fillets, then bake in a 200C oven for 10 minutes or until the fish flakes easily.
Author: Laura Young.
Back to the Monkfish Recipes home page.
Add a Review or Comment:
Conversions
150g
about 5 oz

(5.29095 oz based on 0.035273 ounces in a gram)

50g
about 2 oz

(1.76365 oz based on 0.035273 ounces in a gram)

200°C
400°F / Gas Mark 6
Data: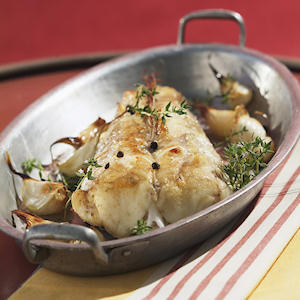 Similar Recipes:
Garlic & Lemon Monkfish


Sometimes, fresh fish only needs few ingredients to make it taste outstanding. This dish combines meaty monkfish, garlic, lemon...

Asian Citrus Monkfish


Fish and lemon are a match made in heaven - this delicious dish is simple to prepare with a quick, tangy marinade that can be p...

Italian Monkfish Pasta


This Italian inspired dish is an excellent way to use fresh monkfish. Monkfish is cooked with tomatoes, wine, fish stock, ancho...