Monkfish on a Bed of Lentils

recipe

Preparation Time:

25 minutes

| Cooking Time:

15 minutes
Earthy
lentils
work super well with meaty monkfish in this recipe and a little bit of lemon flavoured olive oil helps to lift all the flavours.
Juniper berries
help to give everything a complex flavour. Serve with a light salad on the side and some ciabatta rolls.
Ingredients:
425g monkfish, skinned and boned
410g tin green lentils, drained and washed
4 shallots
9 juniper berries
2 tbsp. lemon olive oil
1 tsp. minced garlic
1 tbsp. olive oil
Salt and pepper
Directions:
Preheat oven to 180C. Thinly slice the shallots and grind the juniper berries.

Marinate the fish in the lemon oil, shallots and juniper berries for 10 minutes. Remove the monkfish from the marinade and pat dry.

Heat a frying pan over a high heat. Once very hot, add the fish. Fry on either side until well browned and then put the pan into the oven for 5-6 minutes. Once cooked, slice into 4 portions.

In another frying pan, cook the shallots and juniper berries in the marinade along with the lemon oil for 5-6 minutes until softened and sweet.

In another pan, heat together the lentils, garlic and olive oil. Once warm, pile onto 4 plates. Top with the monkfish and the shallots.
Author: Laura Young.
Back to the Monkfish Recipes home page.
Add a Review or Comment:
Conversions
425g
about 15 oz

(14.991025 oz based on 0.035273 ounces in a gram)

410g
about 14 oz

(14.46193 oz based on 0.035273 ounces in a gram)

180°C
350°F / Gas Mark 4
Data: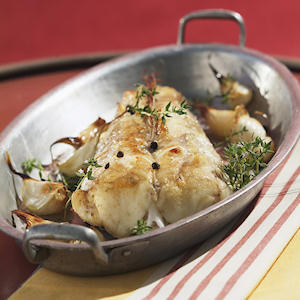 Similar Recipes:
Monkfish Creole


An easy peasy dish made up of storecupboard ingredients, this lip-smacking recipe sounds unusual but tastes exceptional. Serve ...

Monkfish, Avocado and Grape Salad


This light and refreshing salad is the perfect summer picnic dish - poached monkfish is combined with sweet grapes, crunchy cou...

Monkfish and Vegetable Pasta Salad


This flavourful pasta salad is an excellent picnic dish - it's also perfect for lunch. It's also pretty cheap to make too - asi...