Monkfish and Vegetable Pasta Salad

recipe

Preparation Time:

15 minutes

| Cooking Time:

30 minutes
This flavourful pasta salad is an excellent picnic dish - it's also perfect for lunch. It's also pretty cheap to make too - aside from the monkfish, the rest of the ingredients could easily be found in your kitchen cupboard or larder.
Ingredients:
450g monkfish, skinned and boned
4 peppers of different colours
3 courgettes
2 aubergines
450g dried pasta
50g can anchovies
Juice and rind of 1 lemon
6 tbsp. capers, drained
150ml extra-virgin olive oil
90ml balsamic vinegar
Salt and pepper
Directions:
Preheat the oven to 200C. Chop the peppers in half and remove the seeds and pith, then chop. Slice the courgettes and aubergines. Spread the veggies over a baking tray and sprinkle with 3 tbsp. oil and 3 tbsp. vinegar. Toss to coat, season and roast for 20 minutes.

Add the fish, tossing to coat with all the cooking juices, and bake for another 10 minutes. Once cooked, leave to cool.

Cook the pasta according to packet instructions in boiling salted water until tender.

Mince the anchovies. Stir together the rest of the oil, balsamic, lemon rind, lemon juice, capers and anchovies. Pour over the cooked pasta. Add the cooked veggies and fish and toss to combine all ingredients. Serve.
Author: Laura Young.
Back to the Monkfish Recipes home page.
Add a Review or Comment:
Conversions
450g
about 16 oz

(15.87285 oz based on 0.035273 ounces in a gram)

50g
about 2 oz

(1.76365 oz based on 0.035273 ounces in a gram)

150ml
about ¾ cup

(0.634 cups based on 236.59 mililitres in a US cup)

90ml
about ½ cup

(0.3804 cups based on 236.59 mililitres in a US cup)

200°C
400°F / Gas Mark 6
Data: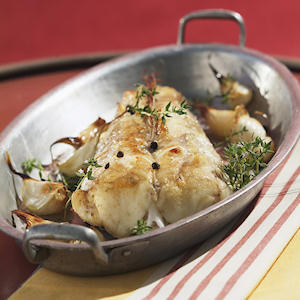 Similar Recipes:
Monkfish, Avocado and Grape Salad


This light and refreshing salad is the perfect summer picnic dish - poached monkfish is combined with sweet grapes, crunchy cou...

Monkfish and Prawn Citrus Skewers


Monkfish and prawns are marinated in a simple mixture of lime juice, garlic cloves, green chilli and teriyaki sauce before bein...

Italian Monkfish Pasta


This Italian inspired dish is an excellent way to use fresh monkfish. Monkfish is cooked with tomatoes, wine, fish stock, ancho...