Monkfish Creole

recipe

Preparation Time:

10 minutes

| Cooking Time:

20 minutes
An easy peasy dish made up of storecupboard ingredients, this lip-smacking recipe sounds unusual but tastes exceptional. Serve with
mashed potato
or chunks of warm bread.
Ingredients:
400g monkfish, skinned and boned
400g tin chopped tomatoes
200g tin sweetcorn, drained
1 onion
200g kale leaves
150ml chicken stock
1 tbsp. oil
225g tin pineapple in juice
Salt and pepper
1 tbsp. Creole seasoning
Directions:
Dice the onion. Cube the monkfish. Bring a pan of salted water to the boil. Add the kale and simmer for 5 minutes, then drain.

Meanwhile, fry the onion in the oil for 5 minutes. Add the seasoning and sweetcorn and fry for one minute.

Add the tomatoes, kale and 150ml stock. Simmer for 5 minutes.

Add the monkfish and pineapple. Simmer for 5 minutes or until the monkfish is cooked through. Serve.
Author: Laura Young.
Back to the Monkfish Recipes home page.
Add a Review or Comment:
Conversions
400g
about 14 oz

(14.1092 oz based on 0.035273 ounces in a gram)

200g
about 7 oz

(7.0546 oz based on 0.035273 ounces in a gram)

150ml
about ¾ cup

(0.634 cups based on 236.59 mililitres in a US cup)

225g
about 8 oz

(7.936425 oz based on 0.035273 ounces in a gram)
Data: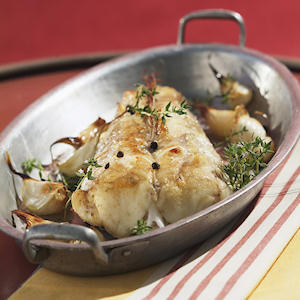 Similar Recipes:
Monkfish with Japanese Noodles


This simple dish combines a few punchy flavours with soft egg noodles, flaky monkfish and a spiky cucumber and radish salad. Fr...

Roasted Monkfish Tail


This easy way to prepare monkfish tail will ensure you're rewarded with firm, flaky flesh every time. Serve it up with some pot...

Monkfish on a Bed of Lentils


Earthy lentils work super well with meaty monkfish in this recipe and a little bit of lemon flavoured olive oil helps to lift a...