Monkfish with Japanese Noodles

recipe

Preparation Time:

15 minutes

| Cooking Time:

15 minutes
This simple dish combines a few punchy flavours with soft egg noodles, flaky monkfish and a spiky cucumber and radish salad. From fridge to table in just 30 minutes!
Ingredients:
4 x 150g monkfish, skinned and boned
200g medium egg noodles
200g spinach leaves
1 tbsp. sesame seeds, toasted
1 tbsp. rapeseed oil
1/4 cucumber
4 long radishes
2 x pieces sushi ginger
2 tbsp. rice vinegar
2 tbsp. sesame oil
Salt and pepper
Directions:
Cut the cucumber into matchsticks. Thinly slice the radishes. Finely dice the sushi ginger.

Bring a pan of water to the boil. Add the noodles and take off the heat, then leave for 4-5 minutes. Once soft, drain and tip into a bowl. Put the spinach into the warm pan and allow it to wilt slightly. Stir in 1 tbsp. sesame oil to the noodles and set to one side.

Heat a frying pan. Add the rapeseed oil and then the monkfish fillets. Fry for 3 minutes on either side or until cooked through and flaking gently.

Combine the cucumber, radishes, ginger, rice vinegar and remaining sesame oil in a bowl. Season well.

Divide the spinach and noodles between 4 plates. Top with the cucumber and radish salad, then the cooked monkfish fillets. Top with the sesame seeds.
Author: Laura Young.
Back to the Monkfish Recipes home page.
Add a Review or Comment:
Conversions
150g
about 5 oz

(5.29095 oz based on 0.035273 ounces in a gram)

200g
about 7 oz

(7.0546 oz based on 0.035273 ounces in a gram)
Data: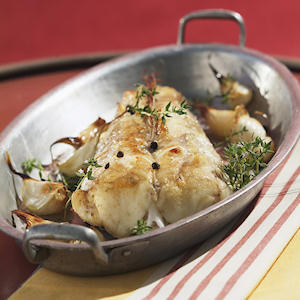 Similar Recipes:
Monkfish with Sweet Chilli Glaze


Chilli, sugar, allspice berries, lime zest and soy sauce combine in this recipe to create a sweet, sticky glaze over firm, meat...

Monkfish Creole


An easy peasy dish made up of storecupboard ingredients, this lip-smacking recipe sounds unusual but tastes exceptional. Serve ...

Monkfish with Fennel & Sun Dried Tomatoes


This simple dish is easy to prepare but it still has bags of flavour. Monkfish is cooked with potato, fennel, tomato, sun dried...