Monkfish, Bacon and Mushroom Skewers

recipe

Preparation Time:

20 minutes

| Cooking Time:

15 minutes
The perfect BBQ dish, this recipe combines meaty monkfish and mushrooms and deliciously salty bacon. The fish is marinated in oil, garlic and lemon for extra punch and flavour.
Ingredients:
800g monkfish, skinned and boned
225g thick streaky bacon
125ml olive oil
1 garlic clove
1 tbsp. lemon juice
1 tsp. dried oregano
200g button mushrooms
Salt and pepper
Directions:
Cube the monkfish. Cube the bacon. Crush the garlic clove. Combine olive oil, garlic, lemon juice, oregano and salt and pepper in a bowl. Add the monkfish and toss to coat, then cover and leave to sit for 15 minutes. Drain, reserving the marinade.

Thread the bacon, monkfish and mushrooms onto soaked wooden skewers until the skewers are full. Brush with the marinade and season the skewers.

Grill the skewers under a medium heat for 10-15 minutes until the fish is cooked through, basting with the marinade frequently.
Author: Laura Young.
Back to the Monkfish Recipes home page.
Add a Review or Comment:
Conversions
800g
about 28 oz

(28.2184 oz based on 0.035273 ounces in a gram)

225g
about 8 oz

(7.936425 oz based on 0.035273 ounces in a gram)

125ml
about ½ cup

(0.5283 cups based on 236.59 mililitres in a US cup)

200g
about 7 oz

(7.0546 oz based on 0.035273 ounces in a gram)
Data: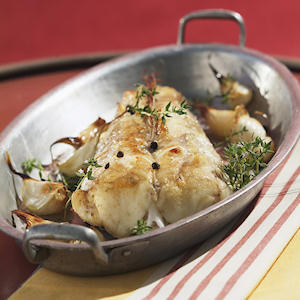 Similar Recipes:
Monkfish and Prawn Citrus Skewers


Monkfish and prawns are marinated in a simple mixture of lime juice, garlic cloves, green chilli and teriyaki sauce before bein...

Monkfish on a Bed of Lentils


Earthy lentils work super well with meaty monkfish in this recipe and a little bit of lemon flavoured olive oil helps to lift a...

Monkfish, Avocado and Grape Salad


This light and refreshing salad is the perfect summer picnic dish - poached monkfish is combined with sweet grapes, crunchy cou...