Italian Breaded Monkfish Fillets

recipe

Preparation Time:

20 minutes

| Cooking Time:

15 minutes
Monkfish is coated with an Italian style breadcrumb mixture made from breadcrumbs, polenta, olive oil, Italian seasoning and garlic powder in this recipe. Because it's baked, it's also fairly low in calories and fat. Bellissimo!
Ingredients:
4 x 100g monkfish fillets, boned and skinned
4 tbsp. fine breadcrumbs
2 tbsp. grated parmesan cheese
1 tbsp. dry polenta
1 tsp. extra-virgin olive oil
1 tsp. Italian herbs
1/2 tsp. garlic powder
1/8 tsp. black pepper
1 egg white
Directions:
Combine breadcrumbs, parmesan, polenta, olive oil, Italian herbs, garlic powder and black pepper.

Grease a baking tray with cooking spray. Lay the monkfish fillets onto the baking tray, brush with egg white and then press the breadcrumbs onto the top of each fish fillet.

Bake for 10-12 minutes until the fish flakes easily. Serve immediately.
Author: Laura Young.
Back to the Monkfish Recipes home page.
Add a Review or Comment:
Conversions
100g
about 4 oz

(3.5273 oz based on 0.035273 ounces in a gram)
Data: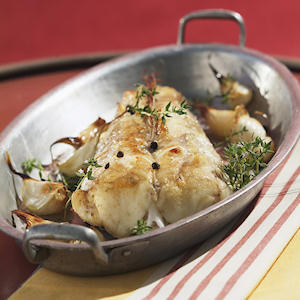 Similar Recipes:
Baked Breaded Monkfish Fillets


This breaded monkfish dish gives you all the flavour and texture of regular breaded fish, but because the fish is baked not fri...

Italian Monkfish Pasta


This Italian inspired dish is an excellent way to use fresh monkfish. Monkfish is cooked with tomatoes, wine, fish stock, ancho...

Roasted Monkfish Tail


This easy way to prepare monkfish tail will ensure you're rewarded with firm, flaky flesh every time. Serve it up with some pot...