Monkfish with Cherry Tomatoes and Creamy Sauce

recipe

Preparation Time:

15 minutes

| Cooking Time:

20 minutes
A great dinner party meal that you can whip up in less than half an hour, this simple dish really makes the most of the monkfish and fresh, seasonal tomatoes. Serve with some soft
ciabatta
rolls to mop up all that delicious sauce.
Ingredients:
4 x 150g monkfish medallions, boned and skinned
250g cherry tomatoes
4 anchovy fillets, minced
150g creme fraiche
50g butter
2 bay leaves
1 rosemary stalk
Oil
Directions:
In one pan, heat the butter until melted. Add the tomatoes and cook gently for about 8 minutes, until the skins start to soften.

Add the anchovy and stir well to coat the tomatoes. Heat a little oil in another frying pan and add the rosemary and bay leaves. Fry for a minute or so, then add the monkfish. Season well and fry for 3-4 minutes on either side until flaking.

Add the creme fraiche to the tomatoes and stir until melted and slightly thickened. Season if needed.

Discard the bay leaves and rosemary stalk. Divide the monkfish between 4 plates and top with the tomatoes and creme fraiche sauce.
Author: Laura Young.
Back to the Monkfish Recipes home page.
Add a Review or Comment:
Conversions
150g
about 5 oz

(5.29095 oz based on 0.035273 ounces in a gram)

250g
about 9 oz

(8.81825 oz based on 0.035273 ounces in a gram)

50g
about 2 oz

(1.76365 oz based on 0.035273 ounces in a gram)
Data: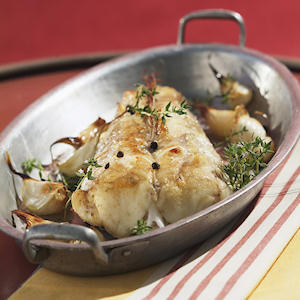 Similar Recipes:
Monkfish with Fennel & Sun Dried Tomatoes


This simple dish is easy to prepare but it still has bags of flavour. Monkfish is cooked with potato, fennel, tomato, sun dried...

Monkfish, Avocado and Grape Salad


This light and refreshing salad is the perfect summer picnic dish - poached monkfish is combined with sweet grapes, crunchy cou...

Monkfish with Sweet Chilli Glaze


Chilli, sugar, allspice berries, lime zest and soy sauce combine in this recipe to create a sweet, sticky glaze over firm, meat...